Posts for: December, 2017
By Duensing Family Dentistry
December 30, 2017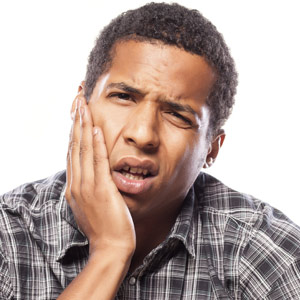 After ruling out other causes for your jaw pain, your doctor or dentist has made a diagnosis: a temporomandibular joint disorder (TMD). With TMD, your pain symptoms and other dysfunctions are due to a problem associated with the temporomandibular joint (TMJ) that connects your lower jaw (mandible) to your upper skull (cranium).
There are a number of treatment options, but most can be classified as either aggressive or conservative. Aggressive treatments are more interventional and target problems with the teeth such as bite problems or jaw relationships as they relate to the bite, which are thought to be underlying causes for TMD. Such treatments include orthodontics to realign teeth, crown or bridgework, or surgical treatment to the jaw or joint itself. These treatments are controversial and irreversible — with no guarantee of symptom relief.
It's thought by many to be appropriate, then, to start with more conservative treatments. Many of these are based on treating the TMJ — which is a joint, a moveable bony structure connected by muscles and tendons — with an orthopedic approach, using treatments similar to those used for other joint problems.
Here, then, are some of those conservative therapies that may relieve your TMD pain and other symptoms.
Physical Therapy. Commonly used to treat pain and dysfunction in other joints, physical therapies like manual manipulation, massage, alternating hot and cold packs or exercises can be used to relax, stretch or retrain the muscles that operate the TMJ while reducing pain and inflammation.
Medications. Medications may be incorporated into the treatment plan to relieve pain, reduce inflammation or relax tense muscles. Besides prescription drugs, over-the-counter anti-inflammatory drugs (such as ibuprofen or acetaminophen) are also commonly used.
Bite Appliances. If night-time teeth grinding or clenching habits are a primary cause for the TMD, you may benefit from wearing an occlusal bite guard while you sleep, designed to specifically fit your upper teeth. Because the lower teeth can't grip the guard's smooth plastic surface when biting down, they'll more likely produce less force. This gives the jaw muscles a chance to relax during sleep.
Diet changes. Changing to softer foods, which don't require strenuous chewing, and eliminating the chewing gum habit will further help reduce stress on the TMJs and also give your muscles a chance to relax and heal.
If you would like more information on TMD and treatment options, please contact us or schedule an appointment for a consultation. You can also learn more about this topic by reading the Dear Doctor magazine article "Seeking Relief from TMD."
By Duensing Family Dentistry
December 15, 2017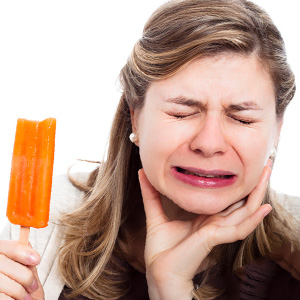 If you're one of over 30% of Americans who wince in pain when eating and drinking certain foods and beverages, you may have tooth sensitivity. Although there are a number of possible causes, the most common place to look first is tooth dentin.
Lying just under the enamel, dentin consists of tiny tubules that transmit sensations like pressure or temperature variation to the nerves of the inner pulp. The enamel, the gums and a covering on the roots called cementum help dampen these sensations.
But over-aggressive brushing or periodontal (gum) disease can cause the gums to shrink back (recede) and expose the dentin below the gum line; it can also cause cementum to erode from the roots. This exposure amplifies sensations to the nerves. Now when you eat or drink something hot or cold or simply bite down, the nerves inside the dentin receive the full brunt of the sensation and signal pain.
Enamel erosion can also expose dentin, caused by mouth acid in contact with the enamel for prolonged periods. Acid softens the minerals in enamel, which then dissolve (resorb) into the body. Acid is a byproduct of bacteria which live in dental plaque, a thin film of food particles that builds up on teeth due to poor oral hygiene. Mouth acid may also increase from gastric reflux or consuming acidic foods or beverages.
Once we pinpoint the cause of your tooth sensitivity we can begin proper treatment, first and foremost for any disease that's a factor. If you have gum disease, we focus on removing bacterial plaque (the cause for the infection) from all tooth and gum surfaces. This helps stop gum recession, but advanced cases may require grafting surgery to cover the root surfaces.
You may also benefit from other measures to reduce sensitivity:Â applying less pressure when you brush; using hygiene products like toothpastes that block sensations to the dentin tubules or slow nerve action; and receiving additional fluoride to strengthen enamel.
There are effective ways to reduce your tooth sensitivity. Determining which to use in your case will depend on the cause.
If you would like more information on tooth sensitivity, please contact us or schedule an appointment for a consultation. You can also learn more about this topic by reading the Dear Doctor magazine article "Treatment of Tooth Sensitivity: Understanding Your Options."