Posts for: June, 2019
By Duensing Family Dentistry
June 20, 2019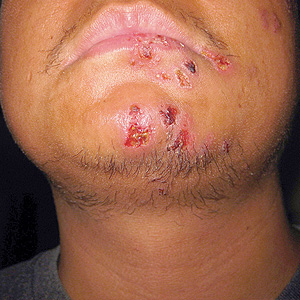 If you had chicken pox as a child, you're at higher risk for a painful viral infection later in life called shingles. Besides a painful skin rash and other symptoms that can develop, shingles could also affect your dental care.
About 90% of children contract chicken pox, a disease caused by the varicella zoster virus (VZV), which usually clears up on its own. But later in life, usually after age 50, about a quarter to a third of chicken pox patients will develop shingles.
The onset of shingles usually produces an itching or burning sensation on the skin that's either numb or overly sensitive to the touch. A red rash may ensue with crusty lesions, accompanied sometimes by pain, fever and fatigue. The rash often forms a belt-like or striped pattern along one side of the face or body.
For most patients this painful rash is the extent of their symptoms. But women who are pregnant, patients undergoing cancer treatment or people with compromised immune systems are at risk for more serious complications if they contract the disease. It's important for these at-risk patients to obtain a vaccination, as well as avoid contact with anyone with shingles.
Which brings us to your dental care: in its early stages shingles can be contagious, the virus passing to others through skin contact or by airborne respiratory secretions. That's why it's important if you're currently experiencing a shingles episode that you let us know before undergoing any kind of dental work.  Even a routine teeth cleaning with an ultrasonic device could disrupt the virus and increase the chances of it spreading to someone else. We may need to postpone dental work until the virus is under control.
Antiviral drugs like acyclovir or famciclovir are highly effective in bringing the disease under control, especially if treatment starts within three days of the onset of symptoms. And don't forget the shingles vaccination: the U.S. Center for Disease Control recommends it for anyone 60 or older regardless of a past history with chicken pox.
See your physician as soon as possible if you begin to notice symptoms. Don't let shingles interfere with your life — or your dental care.
If you would like more information on the impact of shingles and similar viruses on dental care, please contact us or schedule an appointment for a consultation.
By Duensing Family Dentistry
June 10, 2019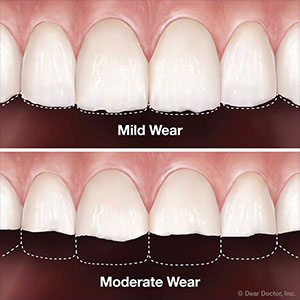 Unlike our primitive ancestors, our teeth have it relatively easy. Human diets today are much more refined than their counterparts from thousands of years ago. Ancient teeth recovered from those bygone eras bear that out, showing much more wear on average than modern teeth.
Even so, our modern teeth still wear as we age—sometimes at an accelerated rate. But while you can't eliminate wearing entirely, you can take steps to minimize it and preserve your teeth in your later years. Here are 3 things you can do to slow your teeth's wearing process.
Prevent dental disease. Healthy teeth endure quite well even while being subjected to daily biting forces produced when we eat. But teeth weakened by tooth decay are more susceptible to wear. To avoid this, you should practice daily brushing and flossing to remove disease-causing dental plaque. And see your dentist at least twice a year for more thorough dental cleanings and checkups.
Straighten your bite. A poor bite, where the top and bottom teeth don't fit together properly, isn't just an appearance problem—it could also cause accelerated tooth wear. Having your bite orthodontically corrected not only gives you a new smile, it can also reduce abnormal biting forces that are contributing to wear. And don't let age stop you: except in cases of bone deterioration or other severe dental problems, older adults whose gums are healthy can undergo orthodontics and achieve healthy results.
Seek help for bruxism. The term bruxism refers to any involuntary habit of grinding teeth, which can produce abnormally high biting forces. Over time this can increase tooth wear or weaken teeth to the point of fracture or other severe damage. While bruxism is uncommon in adults, it's still a habit that needs to be addressed if it occurs. The usual culprit is high stress, which can be better managed through therapy or biofeedback. Your dentist can also fashion you a custom guard to wear that will prevent upper and lower teeth from wearing against each other.
If you would like more information on minimizing teeth wear, please contact us or schedule an appointment for a consultation. You can also learn more about this topic by reading the Dear Doctor magazine article "How and Why Teeth Wear."