Posts for tag: flossing
By Duensing Family Dentistry
May 21, 2019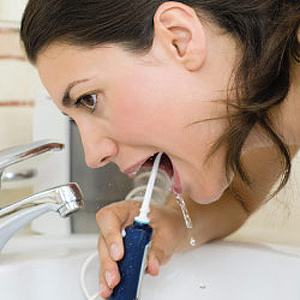 A critical part of effective, daily oral hygiene, flossing removes bacterial plaque from between teeth that can't be accessed with brushing. Unfortunately, it's often neglected — string flossing requires a bit more dexterity than brushing and can be difficult to do properly.
It can be even more difficult for people with implants or who wear orthodontic appliances. For brace wearers in particular, getting access to areas between teeth with string floss is next to impossible; the metal brackets and tension wire also have a tendency to catch and retain food debris that's difficult to remove with brushing alone.
Water flossing, using a device called an oral irrigator, is an effective alternative that addresses many of these difficulties. First available for home use in the 1960s, an oral irrigator delivers pulsating water at high pressure through a handheld applicator that forcefully flushes material from between teeth.
There's no question that string flossing is effective in plaque removal between teeth — but what about oral irrigators? A 2008 study looked at a group of orthodontic patients with braces who used oral irrigators and compared them with a similar group that only brushed. The study found that five times as much plaque was removed in the group using the oral irrigators as opposed to the group only brushing.
Oral irrigators may also be effective for people who've developed periodontal (gum) disease. In fact, oral irrigators coupled with ultra-sound devices are routinely used by dental hygienists to remove plaque and calculus (hardened plaque deposits) in periodontal patients. As with regular oral hygiene, though, it's important for patients with gum disease to include water flossing with daily brushing (at least twice a day) and regular cleaning sessions at the dentist to ensure removal of all plaque and calculus.
If you're interested in using an oral irrigator, be sure to consult with us at your next appointment. Not only can we recommend features to look for in equipment, but we can also instruct you on the techniques to make water flossing an effective plaque remover.
If you would like more information on water flossing, please contact us or schedule an appointment for a consultation. You can also learn more about this topic by reading the Dear Doctor magazine article "Cleaning Between Your Teeth."
By Duensing Family Dentistry
December 11, 2018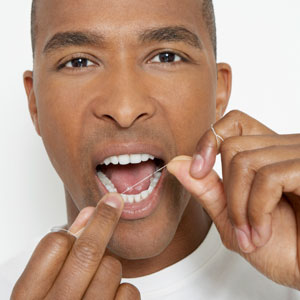 A couple of years ago the Associated Press published an article claiming the health benefits of flossing remained unproven. The article cited a number of studies that seemed to conclude the evidence for the effectiveness of flossing in helping to prevent dental disease as "weak."
As you can imagine, dental providers were a bit chagrined while flossers everywhere threw away their dental floss and happily declared their independence from their least favorite hygiene task. It would have seemed the Age of Flossing had gone the way of the dinosaurs.
But, the demise of flossing may have been greatly exaggerated. A new study from the University of North Carolina seems to contradict the findings cited in the AP article. This more recent study looked at dental patients in two groups—those who flossed and those who didn't—during two periods of five and ten years respectively. The new study found conclusively that the flosser group on average had a lower risk of tooth loss than the non-flossers.
While this is an important finding, it may not completely put the issue to rest. But assuming it does, let's get to the real issue with flossing: a lot of people don't like it, for various reasons. It can be time-consuming; it can be messy; and, depending on a person's physical dexterity, difficult to perform.
On the latter, there are some things you can do to make it a less difficult task. You can use a floss threader, a device that makes it easier to thread the floss through the teeth. You can also switch to an oral irrigator or "water flosser," a pump device that sprays a fine, pressurized stream of water to break up plaque between teeth and flush most of it away. We can also give you tips and training for flossing with just your fingers and thread.
But whatever you do, don't give up the habit. It may not be your most favorite hygiene task but most dentists agree it can help keep your teeth healthy for the long-term.
If you would like more information on the benefits of flossing, please contact us or schedule an appointment for a consultation.
By Duensing Family Dentistry
June 24, 2018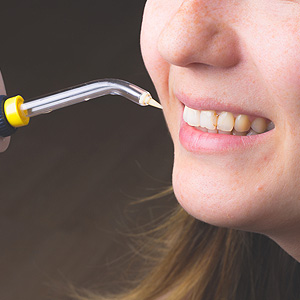 One of the keys to a healthy mouth is daily oral hygiene. These tasks have one objective: remove plaque, a thin film of bacteria and leftover food particles, from tooth surfaces. Plaque fosters bacterial growth that can cause diseases like tooth decay or periodontal (gum) disease.
Brushing does an effective job removing plaque from the broad surfaces of teeth. But because plaque can also grow between teeth where your brush can't reach, you also need to floss.
Unfortunately, flossing is a lot of people's least favorite hygiene task. It can be time-consuming and requires a little more dexterity than brushing. As a result, it's common for people to brush but not floss — and potentially miss plaque that could trigger dental disease.
There is an easier alternative to traditional string flossing: an oral irrigator. These countertop appliances deliver a stream of pulsating water at high pressure through a handheld device that looks similar to a power toothbrush. The user directs the water stream through the nozzle tip (which comes in various sizes) between the teeth. The water vibrates plaque loose and then rinses it away.
Besides people with limited dexterity, water flossers are also ideal for individuals wearing braces or other orthodontic hardware. Because of the metal hardware on and around teeth, flossing can be an arduous task. An oral irrigator makes it easier to floss and reduce plaque buildup, a perennial problem for orthodontic patients. In fact, one study of orthodontic patients found that using an irrigator with a tip especially designed for braces removed five times as much plaque as patients using only a manual toothbrush.
Of course, anyone can use an oral irrigator as an alternative to traditional flossing. Your dentist and staff can advise you on what to look for in equipment and provide instruction on how to use it. If traditional flossing isn't your thing, consider an oral irrigator to get rid of plaque and keep your teeth and gums healthy and attractive.
If you would like more information on oral irrigation to remove daily plaque, please contact us or schedule an appointment for a consultation. You can also learn more about this topic by reading the Dear Doctor magazine article "Cleaning between Your Teeth: How Water Flossing can help."